Interfraternity Council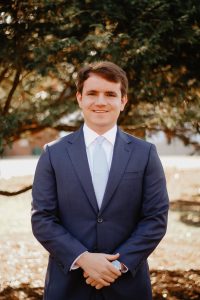 Welcome to the Interfraternity Council website at the University of Mississippi. My name is Andrew Meyer, and I have the honor of serving as the IFC President to our fifteen chapters and roughly 2,100 members. Our IFC Executive Board is composed of eight officers who work to constantly improve our community.
The Fraternity and Sorority community at the University of Mississippi has a rich history dating back to 1850, when our first chapter was chartered. Since then, there has been a strong tradition of excellence in our community. IFC exists to promote the core values of our fraternities: academic excellence, diversity, equity & inclusion, civic engagement, personal & professional development, and health & wellness. These values have guided our fraternity system to become one of the premier Greek communities in the nation.
Being a member of this community has played an integral role in my development as a student and as a leader on this campus. I have found support in so many ways that has helped me grow academically, become more involved in organizations across campus, and build long-lasting relationships. Our community works hard to support philanthropic efforts, promote academic success, and foster an inclusive and welcoming environment.
That being said, we recognize that there are flaws within our community. Addressing these flaws is a challenge, and will require accountability, transparency, and communication. We plan on facing that challenge head-on, and working hard to make our community as inclusive, safe, and supportive as possible. As President, I plan to work hard to create new opportunities for our members, question traditions, and improve our fraternity system in any way possible.
Whether you are a parent, a prospective member, or a current member of our community, please do not hesitate to reach out to me directly at ifcpresident@olemiss.edu with any questions, concerns, or input that you may have.
You may also contact our office at (662) 915-7609 or email ifc@olemiss.edu for more information.
Sincerely,
Andrew Meyer
Interfraternity Council President