Interfraternity Council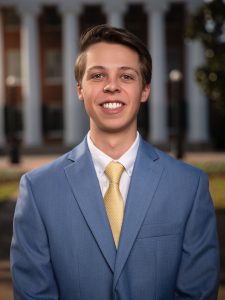 Welcome to the Interfraternity Council at the University of Mississippi. My name is Michael Raymond and I have the pleasure of serving as the President of the Interfraternity Council. The Council is made of nine executive board officers who assist our fifteen chapters in achieving excellence in their endeavors and guiding the fraternity community towards success. Our council exists to promote the core values of our fraternities: academic excellence, respect and dignity for all, civic engagement, personal and professional development, and health and wellness. As we interact with the fraternity and sorority community, as well as various campus stakeholders, we aim to provide our chapters with the tools necessary to create men that are not only leaders on campus and in the community, but also preparing them to lead and serve after their tenure at the University of Mississippi comes to an end.
The Fraternity and Sorority community at the University of Mississippi has blessed me beyond measure and provided me with not only relationships that will last a lifetime, but the resources and outlets to achieve success. Our community strives to provide each individual member with a holistic experience that allows them to become the best version of themselves. While our community exhibits philanthropic excellence, community engagement, academic success, and brotherhood across chapters, it is impossible to ignore the perceptions that some have about our community. The reality is that we are not perfect, and we have our fair share of challenges to overcome. However, it is undeniable the potential that we as students within these organizations could reach and the expectations that we could exceed if we were to operate at a level consistent with the values we swore an oath to when joining our respective organizations. The level of potential we have as fraternity men is what makes this job worthwhile. As we unite with other Greeks across campus, we have the opportunity to build upon the standard of excellence established by the alumni that have come before us and push the Greek community to the next level. Let's hold each other accountable and seek to understand each other. Let's push each other to reach the next level of success. Let's be the men we swore we would be and have fun doing it.
As our community continues to grow, I remain optimistic about our future and what we will achieve. Our opportunities are endless and I am honored to help facilitate the future of fraternities on our campus. Please do not hesitate to contact me directly at ifcpresident@olemiss.edu with any questions or concerns you may have.
You can also contact our office at 662-915-7609 or email ifc@olemiss.edu for more information.
Fraternally,
Michael Raymond, Interfraternity Council President